Try to download and install
The destination site, depends22_xxx.zip Download.
The Web site before, you may download the following file.
Download Version 2.2.6000 for x86 (Windows 95 / 98 / Me / NT / 2000 / XP / 2003 / Vista) [610k]
Download Version 2.2.6000 for x64 [468k]
Download Version 2.2.6000 for IA64 [605k]
etc.
Download the file to a different CPU. Typically, in most cases, x86, and I'm fine with, 64bit and other non-x86 architecture CPU (eg Alpha chip) and if you have, you must be careful.
The downloaded ZIP file to the appropriate directory (the installation directory) to unpack.
When you unzip the file is as follows.
Install (unzip) directory]
depends.exe
depends.dll
depends.chm
If the above
depends.exe
run from Windows Explorer and double click the screen below.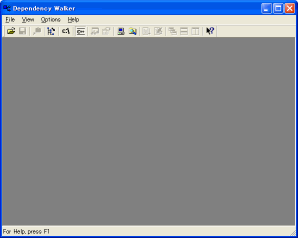 If you want to run from the command line, screen preferences, PATH and give it with the following path.
Let's use
Usage is simple. For example, one executable (exe) files that are dependent (DLL) if you want to search for the file to run it, Dependency Walker to open the drop window. You will then see a screen like the following. (Here, Qt is an example of when you open the application. )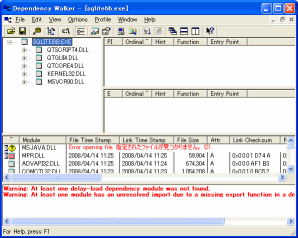 In this example, notice that the following DLL files are dependent on this run.
QTSCRIPT4.DLL
QTGUI4.DLL
QTCORE4.DLL
KERNEL32.DLL
MSVCR90.DLL
Until 1-3, Qt DLL library.
4, OS basic DLL library. (Typically, this DLL is also included with OS)
5, Visual C + + 2008 is Run Time DLL library.
Therefore, if you want to distribute this file, remove the DLL needs to know that I'll include it.
In order to create the installer, the minimum required DLL is very easy to verify.
The executable does not work in reverse (exe, dll, etc.), if the dependent DLL and a shortage of the Dependency Walker, as if dropped, it must be dependent files (DLL) to display all so you can easily find out.
If there is missing on your system, it appears red and the corresponding function as follows KUESUSHONMAKU can be found easily.

If the file exists but dependent, Dependency Walker, the missing (not detected), the menu
Opetion - Configure Module Order,
and then see the screen below.
From this screen, specify the directory where the file name depends
on the
button and
click
Add Directory,
A user define directory
is added.
After the set,
OK
button to save.
Then, refresh (F5) (View - Reflesh) to update.
Perhaps now you will have to be detected, in order to run properly, you can also set the directory path to the preferences you set earlier, it will work properly.