STEP.1 conducted the installation setup file you downloaded
STEP.2 and start to manipulate the screen below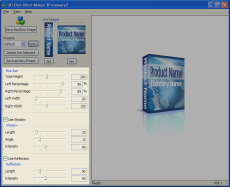 Panel has the following parameters in the bottom left.
Box Size fundamental scaling
Total Height
Left Percentage
Percentage of the left
Right Percentage
Percentage of right
Left Width
The width of the left
Right Width
The width of the right
Use Shadow put a shadow
Length
Length
Angle
Angle
Intensity
Strength
Use Reflection to get the images under reflection in the glass to put on the table
Length
Length
Intensity
Strength
After all the adjustments, the last "Save BoxShot Image" and click Save.
Supported formats: BMP, JPG, PNG, GIF
Here, as an example,
EasyBoxShot
I used to create the original image.
View images

Dorsal view images

If you created with all default parameters, we created the following image.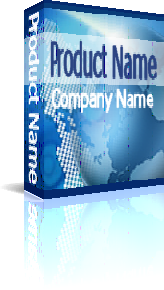 Thus,
View images, create a free user can view the images back, and would easily have made the image.
Each of these is as effective but, in the slide bar is very difficult to tweak.
Also, if you convert a depth of perspective, a little "jagged" I was kind of sloppy visible.
If you ignore around it, you will think easy and enough functions what create 3D image.

This 3D Box Shot Maker you install the free version of itself when you log on, 3D Box Shot Maker will stand up. (RunOnce is registered)
If you want to remove it, and put the following command when you log on, will not start.

C:\> reg delete HKLM\SOFTWARE\Microsoft\Windows\CurrentVersion\Run /v 3DBoxShot↓
Delete the registry value 3DBoxShot (Y/N)? y↓

... The operation ended correctly... 

C:\>

↓: Enter