Make EasyBoxShot image software package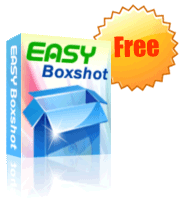 EasyBoxShot is a picture of the software package tool to create 3D images.
Download is
available for download
from the site.
This tool is simple.
STEP.1 conducted the installation setup file you downloaded
STEP.2 and start to manipulate the screen below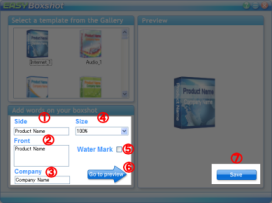 (1): Side input string spine (2): Front cover of the input string (3): Campany type the company name under the cover (4): Size The size of the image output (100% = 155x166 px)
(5): WaterMark me like a shadow on the glass topped with a package (6): GotoPreview able to preview on the screen right (7): Save to save the image

If you want to change the overall pattern, you should choose the upper left of the screen.

Thus,
The template is easy, it only AGERE character would have made the following simple picture.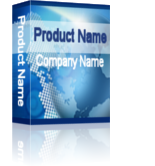 Because it's easy, I would like to change a little, not quite. The above pattern should HAMARE routine.
I noticed you raised the following points at least.
You can change the font, but use only alphanumeric
After you save the big picture, the unstable behavior