Immediately, let's make
ZIP file you downloaded and installed, the administrator (component - Xmap) Click to view the screen below.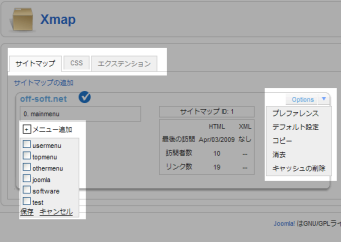 Here, the minimum set point to only one point.
The menu screen to the right
"Add Menu".
Xmap is
to create
a Sitemap from the menu! !
You must understand this point well.
By default, "mainmenu" is set.
"mainmenu" you do not want to register with the site map, or on the site "mainmenu" menu if you do not have that, here, "mainmenu" Remove the above "Add
menu" you want
to
include
in the site map check the menu, click Save.
At a minimum, to set, only this one.
Let's check
Whether that will be created in the first set, let's review.
Management screen (component - Xmap) Click to view the screen below.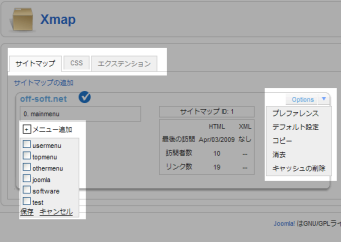 Here, the right of the screen, "Insurance - Preferences" from the menu.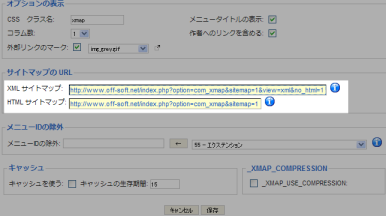 Screen is displayed above.
Here, the middle
HTML Sitemap: will
automatically display a site map and click on the item.
What made it work.
Xmap, and so that it is also fine. For example, you can specify a menu item and do not want to subscribe to site map.
But just because a basic menu, the menu must be firm, sitemap, you can not work. Well, minor details to create a menu.
Also, Joom! Fish If you are using, if you want to specify the language of the above URL, and add the following parameters, lets you create a site in that language.
Waves on the link in the menu
Well, the site is in the menu "Site Map" menu item is written.
Xmap allows you to easily create.
Admin (Management menu [menu - menu to add * site map] ) Click to view the screen below.

Top left corner of the "change type" select, Xmap and select.
On the right of the screen "Select Site Map" to create a Sitemap Xmap and select the name of the item.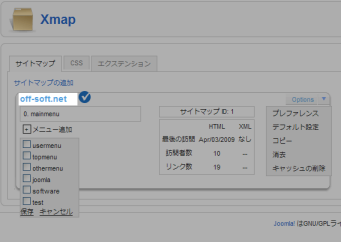 Xmap item name is Admin (component - Xmap) is the name that appears on the right.
This name also, if you click, you can edit the name you choose.
Xmap is not just simply that you can see a sitemap, XML sitemap to create, you can also notice that information to the search robots.
SEO in the first set of measures, Xmap, may be effective.
The next Yahoo, Google and I would like to respond to this.