Immediately, try using
Downloaded from the site where, gz file download and installation. (Menu [extension] - Install / Uninstall Please from. )
After installation, management Module , Click the Add New, [PHP Module] Create a new.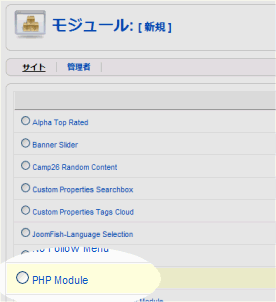 [PHP Module] Configuration screen, set each information.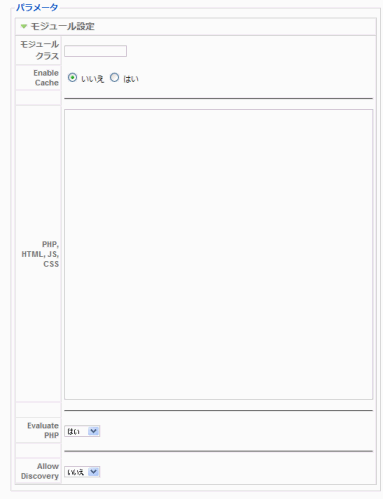 | | |
| --- | --- |
| Parameter name | Description |
| Class Module: | The name suffix of the module. |
| Enable Cashe: | Enables the cache. |
| PHP,HTML,JS,CSS: | PHP, HTML, JS, CSS and embed the code. |
| Evaluate PHP: | PHP runs as a code. |
| Allow Discovery: | For debugging, www.fijiwebdesign.com view copyright as HTML to embed in the article comments. |
In these settings, the setting
is, PHP, HTML, JS, CSS
is about. After, almost, I think you can leave the default value.
If the display埋Me込Mitakunai copyright foundries, Allow Discovery Well and the good.

This time, the usual "Hello World!!" Let's show.
PHPのコードは、以下のとおりです。
Does, as a test, the following
Plugin module in article
use, let's see where PHP Module below.
(module [116] )
Fine, could see.
It is easy.
This time, the Joomla PHP Module Extension introduced with similar features are also filled.
This is a very simple and it was this time is up to the introduction.

If you check the contents of this module, you could understand, is very simple. Using PHP's eval is only running the code.

PHP, I know, Joomla mechanism, yet, and you can not understand, but for now, PHP code to be embedded in色Nna article, I can customize the way you want.
As also described earlier, PHP other libraries (such as my own code), etc. If you want to take advantage of the convenience I think. (Joomla Kitara accustomed to, I also make a good module)

※ described in the current directory where the PHP code, WEB is the root directory of your site. require_once and when you include the logical path can be read in it.