Notepad++ Plugin Change Markers launch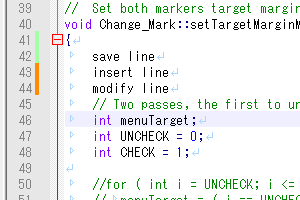 This is new version of Change Markers for Notepad++.

Change Markers is
a plugin that marks lines that have changed in a document since it was since it was last loaded, and since it was last saved.

You can view lines with un-saved changes using the Jump menu commands.
Use Jump: Prev Change and Next Change to move through the changes in the order they were made.
Use Jump: Changed Line Up and Down to move to the first change found in the direction chosen.

Disabling change tracking for a document will clear all markers and reset the change tracker. This can be used to clear old change marks, and keep your undo history, and not need to reload the document.
Disabling the whole plugin will stop all change processing. If you have several large documents and will be doing bulk changes disabling the plugin will help speed up the process.

Hopefully you find this to be a useful tool. Enjoy!
Thell Fowler (almost automated) -- original auther.
( This is quote of "About Dialog". )
The Change Markers plugin has stay old stable version(1.2.0 / 2014-09). But it is not not compatible with the latest version of Notepad++. So, it do not work well with the latest one.

This new version of Change Markers plugin will work with the latest one.
This page will launch Change Markers binary file( .dll file ) and source files.
You can download Original source files from 2 following sites.
But each had stopped update from 2014/09. I have used source files of github site. and I will upload it someday.
Note) Licence.
Notepad++ Licence is GPL.
Scintilla Licence is Historical Permission Notice and Disclaimer.
And Change Markers is GPL.