Try to download and install
From where you downloaded the first, gficoneditXXX.zip Download. (XXX is the version information)
The installation is complete in this ZIP to the directory you want to install just unzip the file.
%melt derectory%\Greenfish Icon Editor Pro x.x\
I think that the directory has been created.
It is easy to start.
%melt derectory%\Greenfish Icon Editor Pro x.x\gfie.exe
The following screen appears at startup Shire double-click the file from Windows Explorer.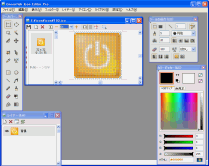 If you switch to the screen in Japanese language, as follows, Menu - Setting - Language and language settings screen, select the flag of Japan, OK When you click the switch immediately.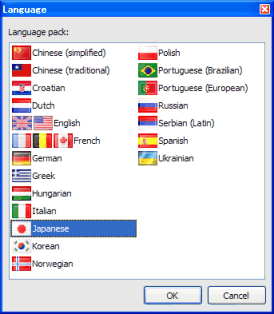 The following is the language of the state switched the menu.

Then create a simple icon, I want to explain how to use.
Let'use
Then, to explain the usage easily, let's make an easy icon of 32 pixels.
How to start, start the file directly as described above.
The New icon to create a 32 pixel
From the menu, "Create New Image" button.
The dialog displays the
new image created, if necessary, enter the size.
Here, 32x32 icons to try to create.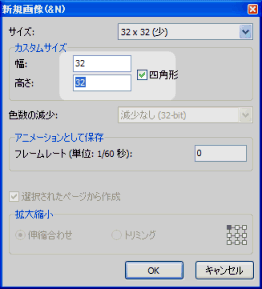 Let's draw that well, such as creating new files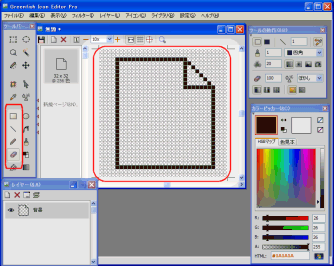 Use here is the same as a normal tool based painter.
Create and use.
Let's fill in the shading
Toolbar "magic wand", and then select the area to fill.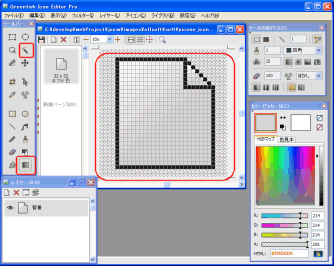 Toolbar "gradient", and then select a color from the original Karatsuruba.
Try to fill in the shading of light pointing from left to feel.

I like this.
Time to fill in a gradient, while the left mouse button in, plug the light direction, and drag.
Then, holding such a gradient is filled with light from that direction.
Let's put a shadow continues
Menu filter - put a shadow ... Click.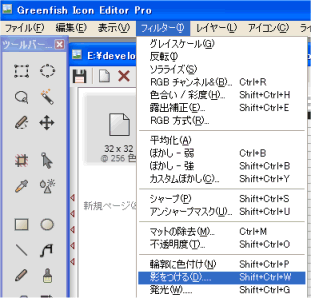 Parameters of the screen, raw value, let's run.

I like this.
Finally let's blur the whole
Menu Filter - Blur (weak)] Click.

I like this.
Sib Icon Editor
and icon when you create, so I tried to implement the same trend.
Sib Icon Editor,
as well as it can easily be created.